Ever dream about a castle wedding? How about a wedding in a 600 year old castle in Tuscany surrounded by vineyards and olive trees…need I say more?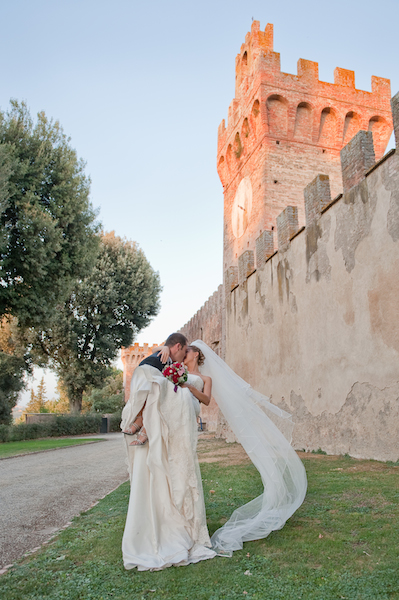 Castello di Olivieto is a stunning castle located close to Florence as well as other quaint tuscan towns like Siena, San Gimignano and Volterra. It is a wine and olive producing estate that can be rented to hold an unforgettable tuscan wedding.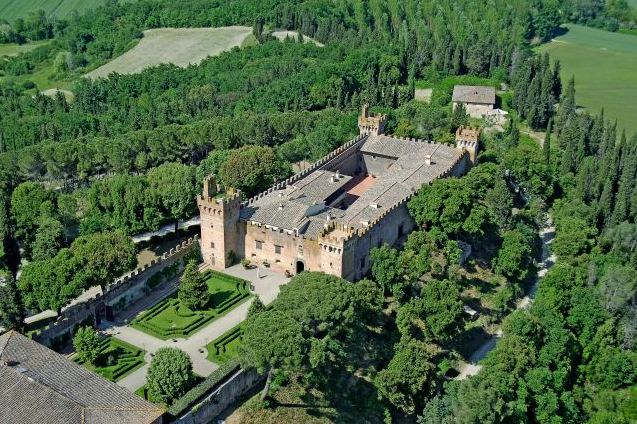 Castello di Olivieto is a great venue for small to large wedding as they have ample space both indoor and outdoor making the castle a great choice for a wedding any time of the year. The views from the castle tower are truly stunning and there is a beautifully manicured Italian garden that can be used for ceremonies and during the reception. Although there are no accommodations offered on site there is a lovely farmhouse stay with 10 apartments 3km from the castle along with other nearby hotels. Many of my brides look for venues that have accommodation on site but I think arriving at your wedding venue for the first time really gives your guests the 'wow factor'.
Despite being a venue only location, brides still have the opportunity to utilise the castle's rooms to prepare for their wedding. Not only does this room make you feel like a real princess but it provides a spectacular backdrop for photos.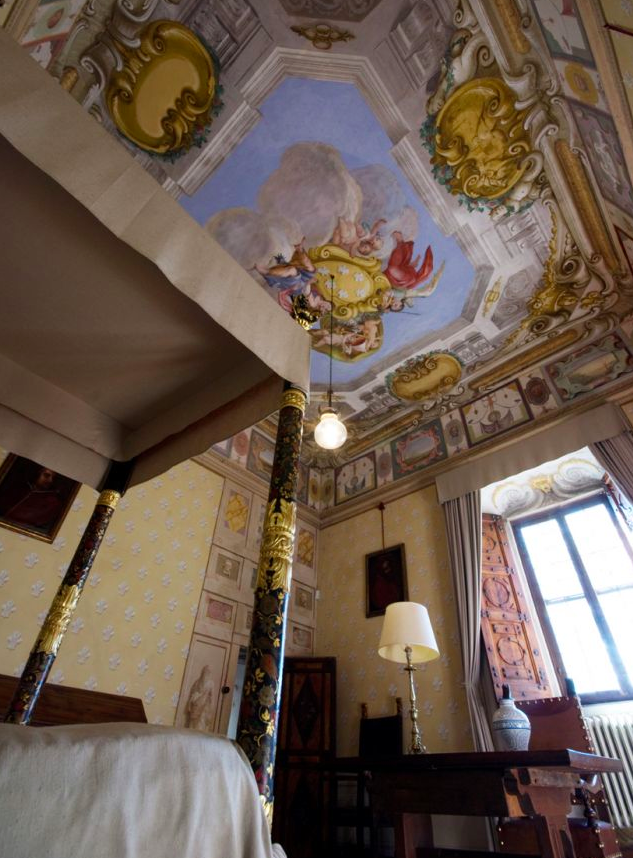 One of the great advantages of this venue is the possibility to marry legally on site. Typically, civil ceremonies are held in the local town hall. The majority of locations in Tuscany do not allow civil ceremonies outside the town hall so a legal marriage in their Italian garden is a big plus. Tuscania Events can guide you through the document process and also translate the ceremony (this is one of my favorite parts of the job!).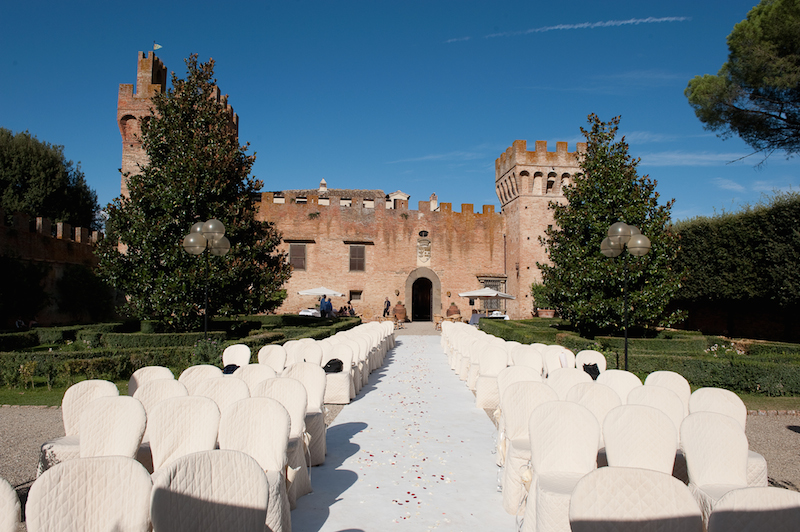 Here is the civil ceremony set up of Elydia & Marco.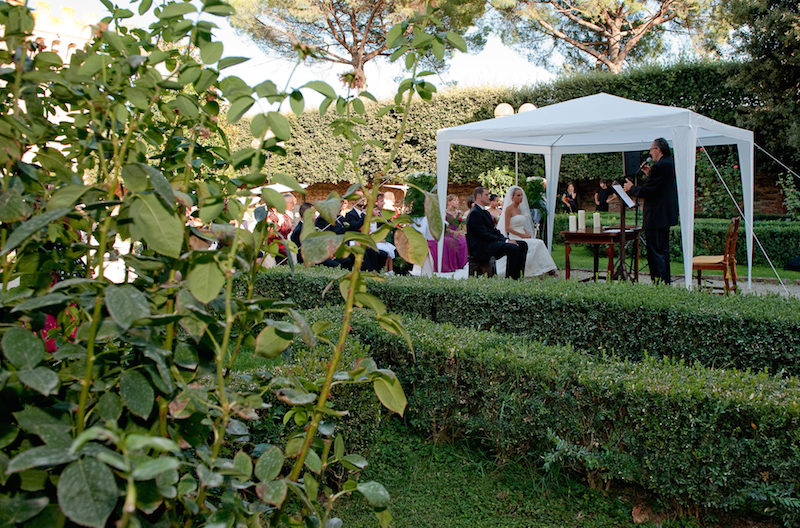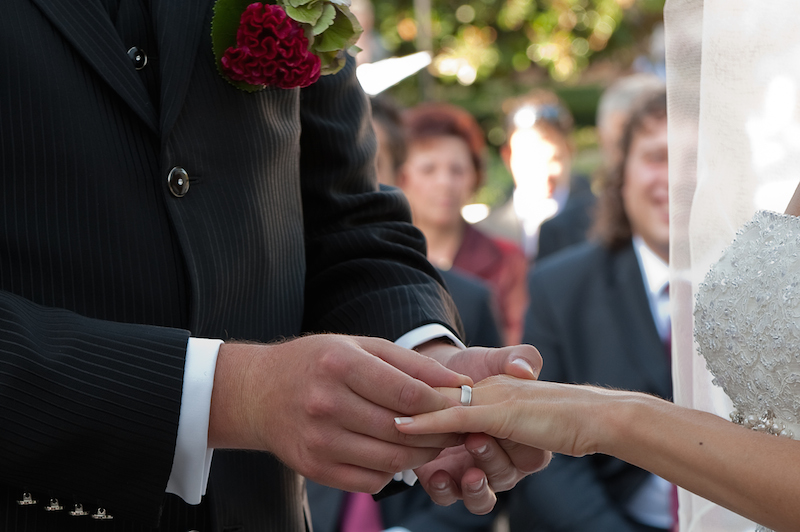 After the ceremony the italian garden is a perfect place to hold cocktail hour. Marco and Elydia chose this area to enjoy a few cocktails and appetisers before the wedding dinner.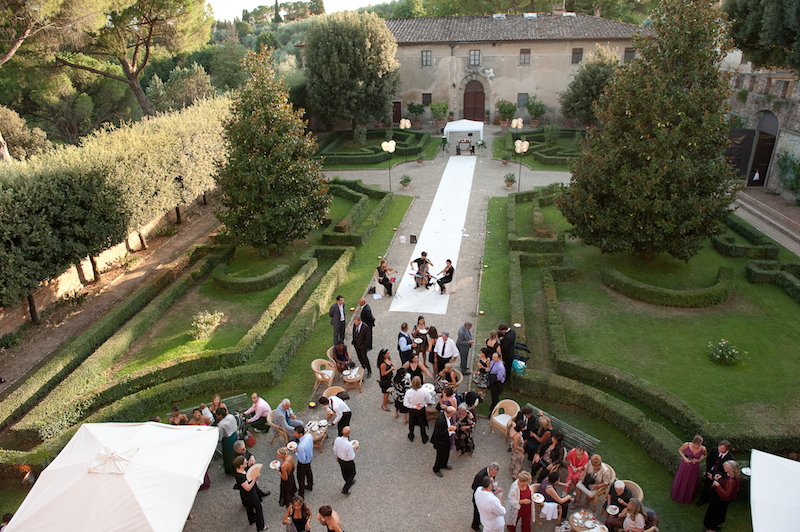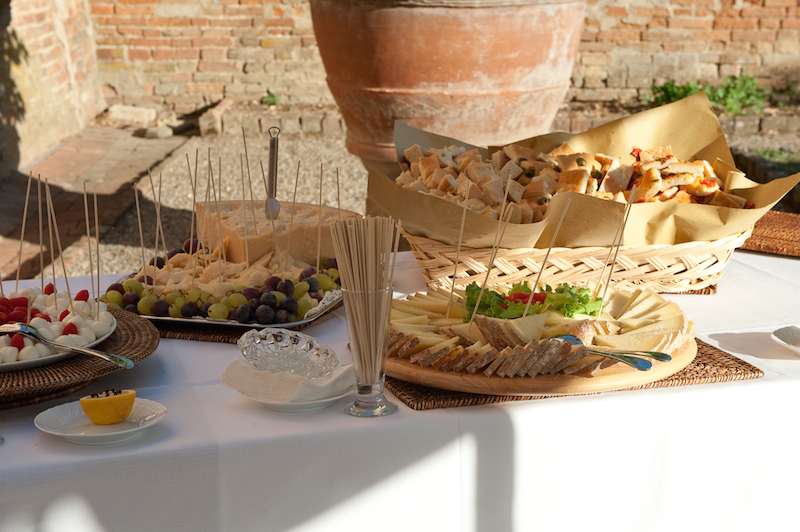 After your guests have enjoyed the ample Italian style cocktail hour it's time to move onto the reception dinner. The castle courtyard which can hold up to 200 people is a perfect location for dinner. In the event of inclement weather there are beautiful rooms indoors that can hold up to 180 guests so you avoid the additional costs of renting a marquee….yet another plus!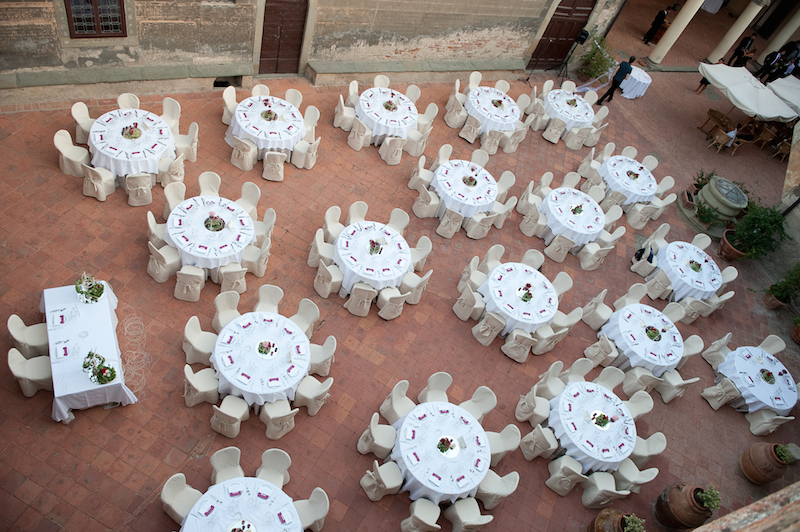 After dinner you move inside one of the castle's rooms and party the night away…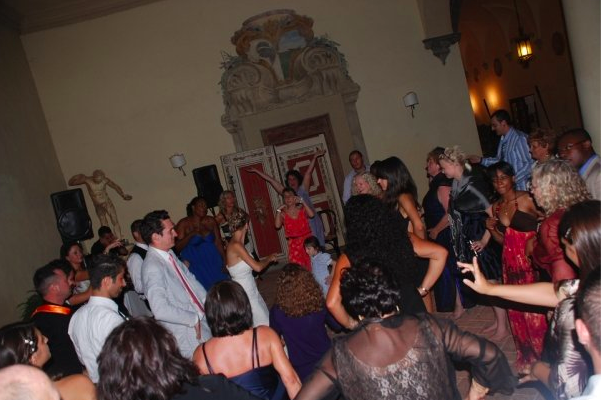 To give you a better understanding of the venue, here are a few words from beautiful bride Elydia on her experience at Castello di Olivieto.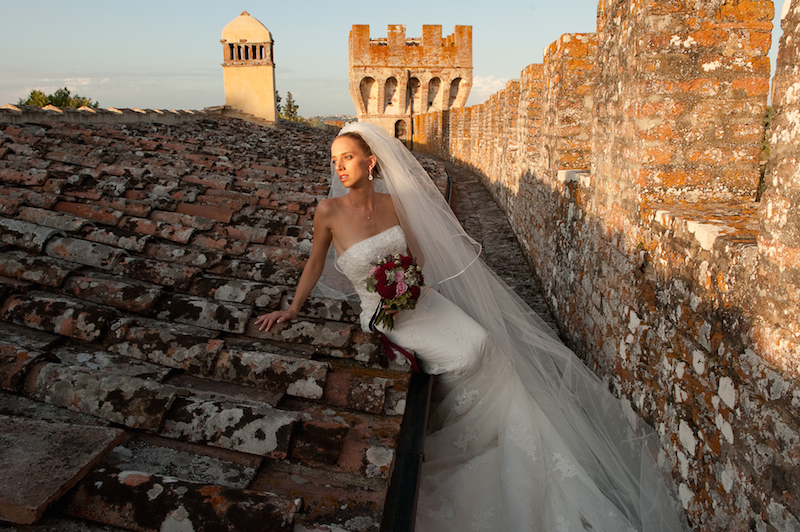 "I have to say that we looked long and hard for the perfect location… we wanted a     place that was not too far from Florence but has a beautiful view of the Tuscan hills for people who are visiting and may not have been able to see the countryside, otherwise.  We also wanted a place where we could do the ceremony and reception in the same place so no one had to worry about going anywhere (trying to find a church and then villa in Tuscany may be harder to us Americans who are more used to bigger, more detailed roads!) and this castle was perfect for those reasons and many more.  It is the only castle upon a hillside, surrounded by fields of sunflowers… you can get any more fairy tale than that!  
Great, friendly service, fantsastic food made fresh in the kitchens of the Castle and wine made from the Castle's vineyards, amazing historic decor, beautiful gardens, tons of little spaces to enjoy yourself and soak up the Tuscan fantasy… and the fact that the castle is on top of a hill and was so secluded made it us all feel like we were the only ones on earth, enjoying this most special day.  
My uncle with his family at dinner said, "This is by far the most amazing wedding I have ever been to.  Everything is perfect:- the food, the wine, the amotsphere.  Nothing can get better than this moment." …and then… at that very moment… the torches in each tower within the castle courtyard lit up!  …. and it got even better… "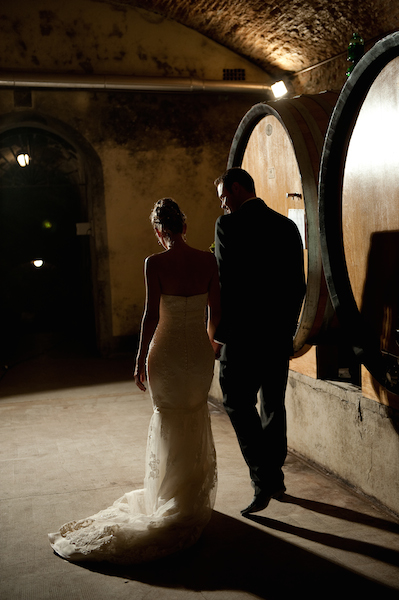 I would like to thank Elydia & Marco for allowing me to share their experience and G & G Photography for their images.
Let the dream begin….