There are  many  brides-to-be who have decided to have a destination wedding in beautiful Italy but have no idea of how a typical italian wedding reception dinner is organised. The most important thing I can say is…..you will not be disappointed. Although there are many different caterers to choose from according to budget level and expectations, italian food is well, just amazing! When the venue of your choice does not have restaurant, you will be required to hire an external caterer who should be familiar with the location and generally will set up a mobile kitchen on site. The wedding dinner will consist of four very distinct phases: cocktail hour, dinner, cutting of the cake and after dinner. Cocktail hour starts immediately after the completion of the wedding ceremony and generally consists of a drink table and a few food corners (cheese, amazing tuscan deli meats etc) and waiters passing finger foods on trays. The most typical cocktail drinks offered are prosecco (sparkling white wine), fruit cocktails, water and fruit juice. Depending on your budget you can have a small offering of finger foods to many different food corners. Sometimes there is so much great food during cocktail hour that there is no room for dinner! Cocktail hour lasts generally for 1 1/2 hour and the area with which cocktail is served is usually in an area different from the dinner area.
Let's move on to dinner. Unlike wedding celebrations in the US or UK for example, your guests do not make a menu selection during dinner. The dinner begins with 2 first courses (a pasta and risotto for example) and 1 second course (meat or fish) all of which was chosen in advance by the couple. Obviously guests with special dietary needs will be given appropriate alternatives. Both red and white wines and water is served throughout the dinner service. Since there is typically 20-30 minutes between each course, a dinner service can easily last 1.5-2 hours.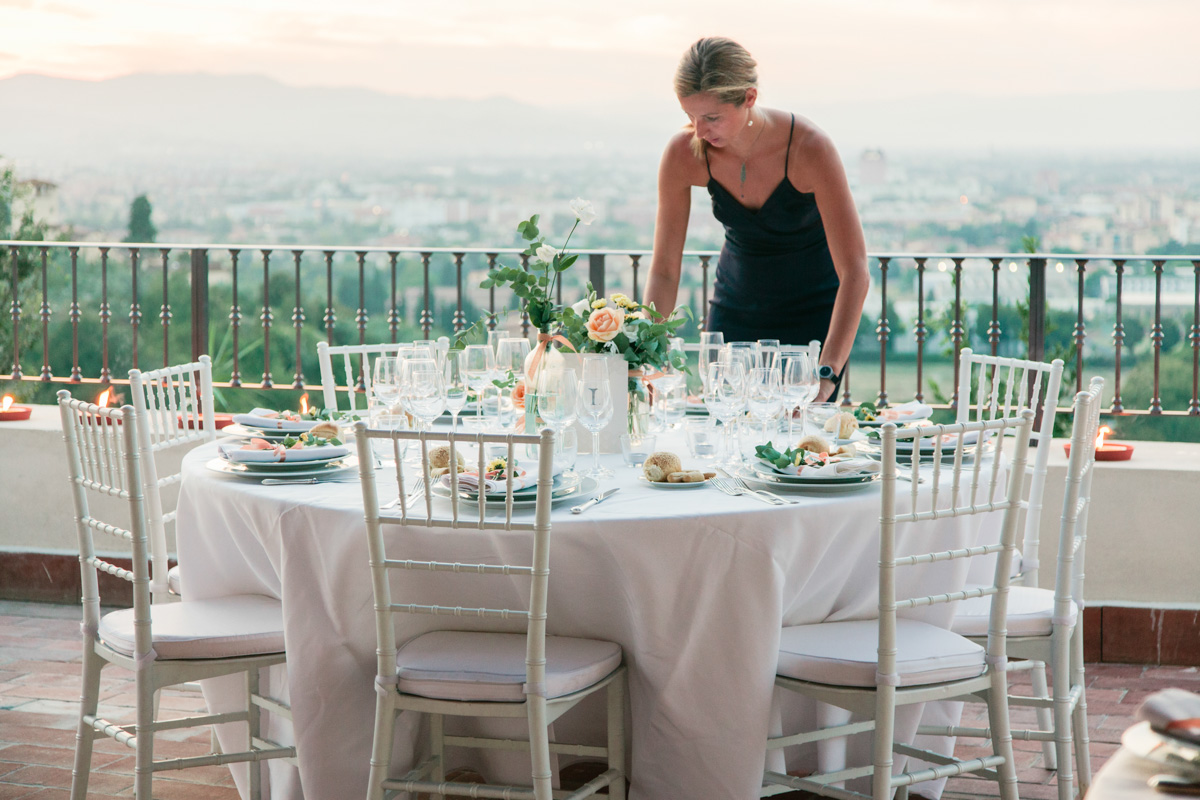 Cake cutting (if you choose to have a prominent cake cutting) is usually celebrated in another distinct area. Depending on the caterer and budget the cake cutting can be followed by a rich dessert buffet with coffee and various Italian liquors or simply cake and coffee served at the table. The first 3 phases are typically included in the quoted per person price. The After dinner party is quoted separately as there are many different options and you have the possibility to include the open bar or have a cash bar if necessary. The after dinner area is designated in another chosen area and often indoors (going indoors often allow a longer party with loud music). The after dinner often has a different look than the wedding dinner – at extra cost you can have illuminated bars, a sofa lounge area etc to create a more party like atmosphere. Again, this all depends on your particular preferences and budget level.
This is the basic flow of an Italian wedding dinner. One very important thing to note, unlike catering companies in other countries the per person price quoted will include also all basic linens, tables, chairs, table settings etc to choose from. Considering the quality of the food and all the extras included often a destination wedding dinner can be more affordable than you think.