Convincing couples to marry in Florence, one of the most beautiful cities in the world is really not very difficult.  Outside of the history, art and food there are numerous advantages to a Florence based wedding. You can marry any time of the year (even in the winter there are things to do and see) and the surrounding areas are filled with castles, villas, and farmhouses perfect for unforgettable wedding receptions. Florence and Pisa airport are also close and convenient. Unlike many other tuscan towns you have 5 options to choose from for celebrating a civil ceremony –  La Sala Rossa or red room and La Sala dei 500 in the Palazzo Vecchio (Florence town hall), Bardini museum, Villa Vogel and lastly the beautiful seasonal option of Il Giardino delle Rose or The Rose Garden. Typically a civil ceremony is celebrated in the local town hall only so the fact that you have 5 options to choose from in Florence is certainly a plus!
Have I given you enough reasons to choose Florence??
I am dedicating this blog to the seasonal option – Il Giardino delle Rose or the Rose Garden which celebrated its first wedding ever in the summer of 2012. Thank you to former Florence Mayor Renzi and now Italian Prime minister for this possibility!
The Rose Garden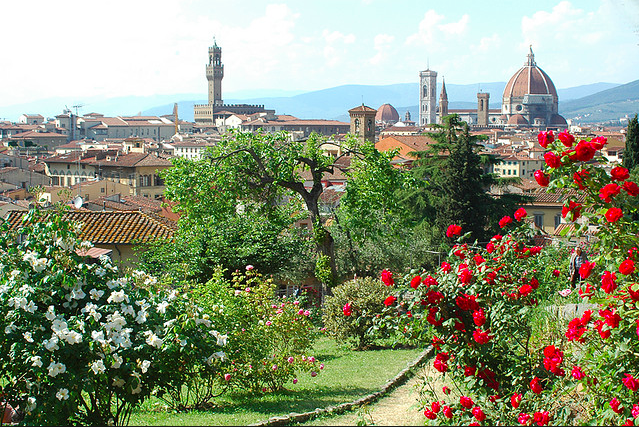 The Rose Garden is located right underneath Piazzale Michelangelo with wonderful views of the city and is filled with up to 350 different types of roses. There is also an adjacent Japanese garden (see picture below) that was given as a gift of peace from Kyoto, Japan.  Throughout the garden there are  12 bronze statues by Belgian artist Jean Michel Folon. Although it is open all year round, the best time to visit is from May-September and it is also the only time frame you can marry civilly there.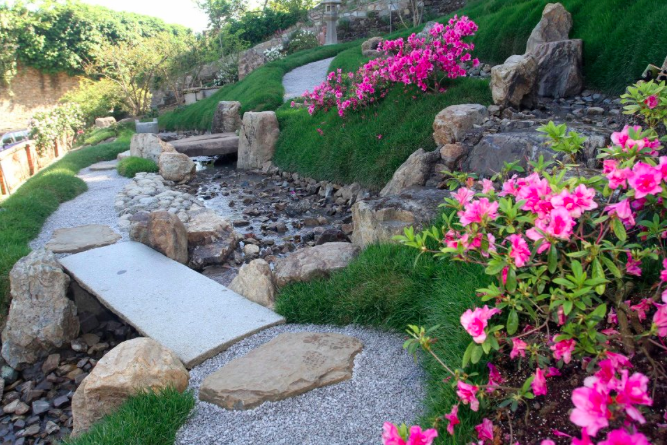 This is the actual terrace dedicated to performing the civil ceremony followed by a picture of the terrace set up for civil marriages. The frame on the right that looks oddly like a suitcase is actually one of the bronze statues and it uniquely frames the backdrop. Here is a link of a video that clearly showcases the beauty of the ceremony space – The Rose Garden.
The Rose Garden has a rental fee paid directly to Florence's town hall from 2250-3000 euros depending on day chosen (2014 pricing). Ceremonies can be held only on Tuesday mornings only twice a month from May- September. For more specific information please contact us at wed@tuscaniaevents.com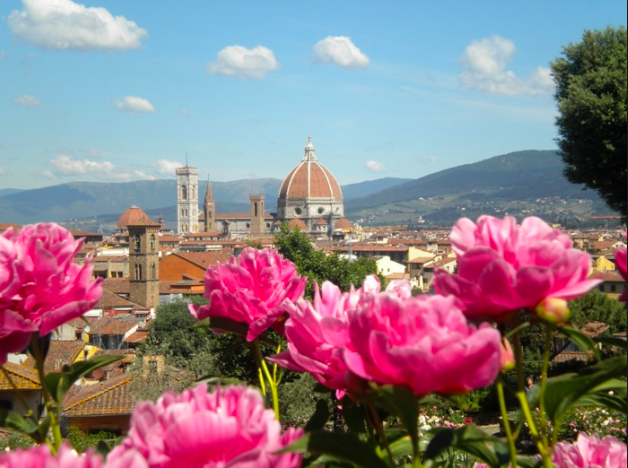 If you would like to know more about the possibility of celebrating your dream wedding in Florence, please contact us at wed@tuscaniaevents.com